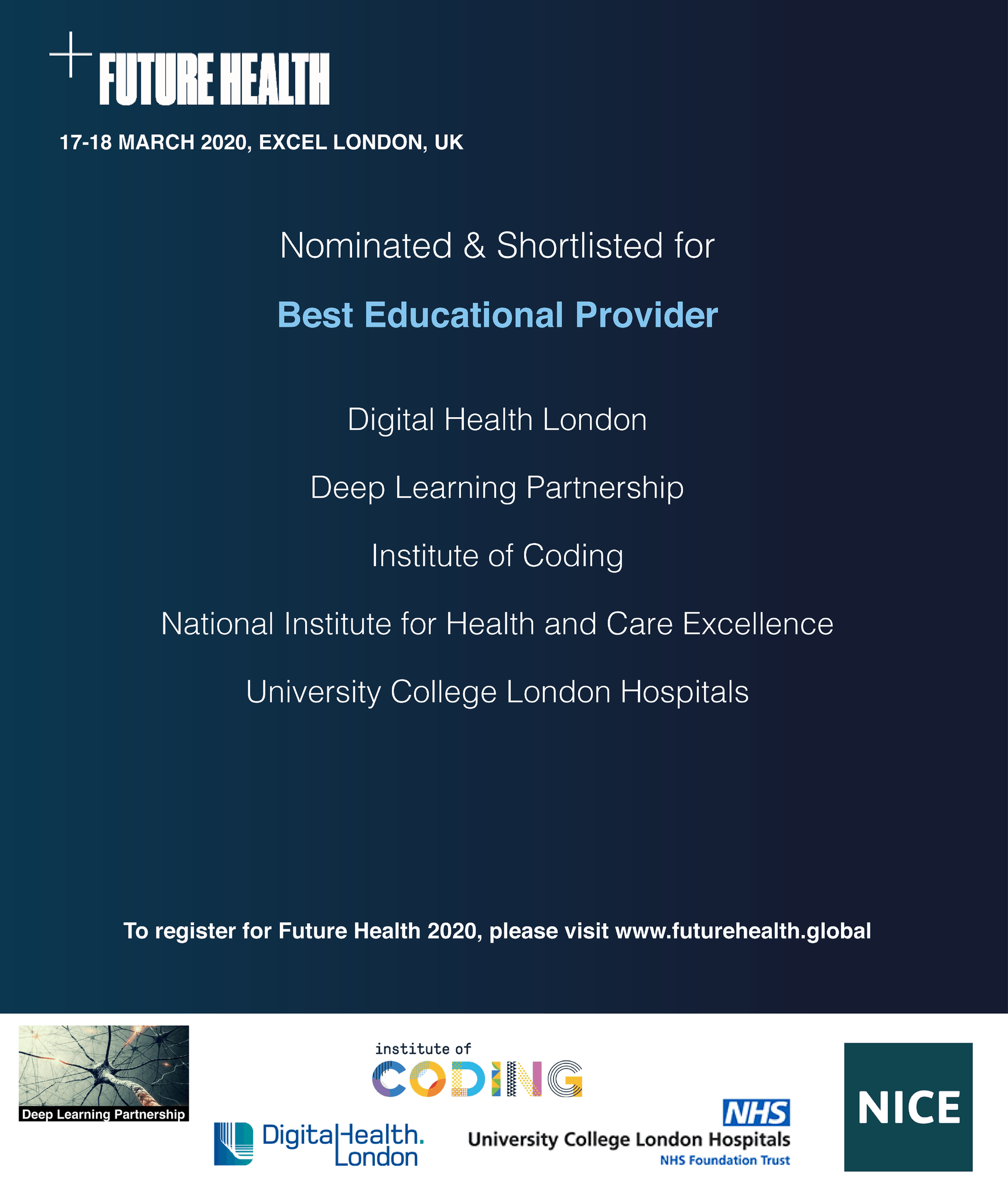 DigitalHealth.London is helping health and care professionals turn the idea of digital innovation into tangible improvements in experience and outcomes for patients. Our work is instrumental in giving health and care stakeholders across London insight into the best digital health interventions and tools on the market.
DigitalHealth.London is a collaborative programme delivered by MedCity, and London's three Academic Health Science Networks – UCLPartners, Imperial College Health Partners, and the Health Innovation Network.
Peter is author of the popular report, "Machine Learning is Changing the Rules: Ways Businesses Can Utilize AI to Innovate", published by O'Reilly. He is passionate about artificial intelligence and quantum computing and the positive changes they are bringing to society. Peter founded the AI consulting company, Deep Learning Partnership, www.deeplp.com in 2012 to carry out his mission of helping to bring AI to the world. Peter started off as a particle physicist before he moved into Systems Engineering at companies such as Cisco Systems and IBM. As an entrepreneur Peter has founded companies in the AI, social media, and music industries. He advises and mentors London startups and is a speaker at various conferences on AI and quantum computing globally. Peter founded the popular London Deep Learning Lab Meetup https://www.meetup.com/Deep-Learning-Lab/ and is a member of the UCL Steering Committee on quantum computing. You can follow him on twitter @PMZepto; his full profile can be found here: https://www.linkedin.com/in/peter-morgan-8b7ba2/.
Coventry University (CU) is a major partner in the UK's Institute of Coding (IoC), a new, exciting, national initiative, led by the University of Bath, supported by theme leaders Aston University, the Open University and Manchester Metropolitan University. The Institute brings together a range of universities, industry, training providers and professional bodies to address the UK's digital skills gaps.
The Institute's vision is to enhance the education and employability of every IoC learner and ensure that employers and individuals across the UK can access the skills they need to compete in the global digital economy. This unique and innovative collaboration has been made possible with £20m from the Higher Education Funding Council for England and match funding from universities and industry partners.
The Institute of Coding will develop and deliver innovative, industry-focused higher education across the UK. It will develop accredited degree schemes and short courses aimed at professionals in a wide range of sectors, as well as working to widen t
NICE's role is to improve outcomes for people using the NHS and other public health and social care services.
We do this by:
Producing evidence-based guidance and advice for health, public health and social care practitioners.
Developing quality standards and performance metrics for those providing and commissioning health, public health and social care services.
Providing a range of information services for commissioners, practitioners and managers across health and social care.
UCLH provides first-class acute and specialist services in six hospitals in central London. Our mission is to deliver top-quality patient care, excellent education and world-class research.
In partnership with University College London (UCL) we are one of the country's five comprehensive biomedical research centres. We are a member of UCL Partners which brings together some of the UK's world-renowned medical research centres and hospitals.